Respondents can provide feedback and comment on an image in the hotspot question. The hotspot question is useful for testing communications; respondents can express their opinion about the different sections and explain them if necessary. For example: "What part of this image do you find positive, neutral or negative?". The answers positive, neutral and negative can be dragged to the desired places. As soon as the place has been selected, a speech bubble will appear in which the respondent can explain his choice.
On this page:
Add a Hotspot Question
Click in the menu on "Questions" and "Enter Questions".
Choose "Hotspot Question" and press the "Select" button.
Fill in a "Question text".
In the question options, click to add an image. Choose from an existing image from the MediaManager or upload your own image.

Enter the minimum and maximum number of responses.

Enter the answer texts. This text will not be shown in the question itself.

Optional: select one image per answer. For example, in the Media Manager, select a green thumb for positive, a yellow thumb for neutral and a red thumb for negative.

Press the "Save" button.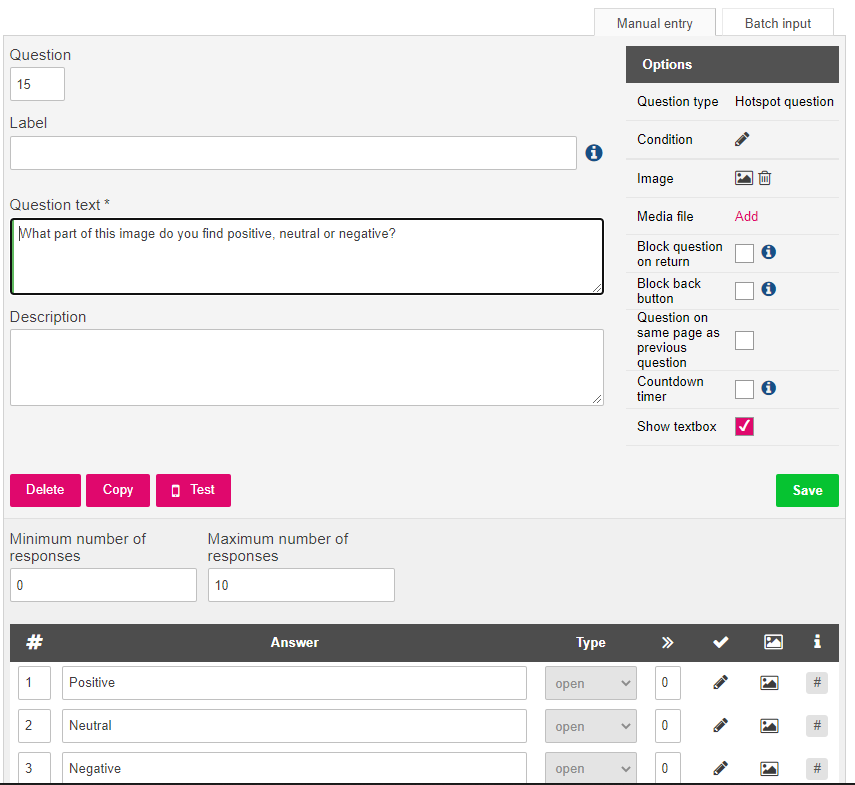 The question is as followed:

Results
In the menu you can view and analyze the data under "Results" and "Results". Click on the hotspot question. The analysis screen will now open. The "dots" represent these ratings. For more help on analysing this question, click here.
Question options
The Hotspot Question has the following question options: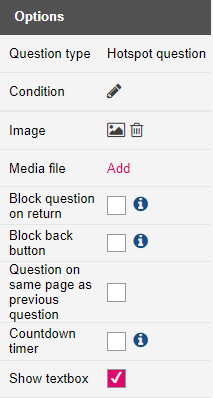 Conditions
Here you can put a condition on the question. Read more about Routing and Conditions.
Images
Click on

to add an image to the question. Make a choice from the available images in the MediaManager or upload your own image.
Mediafile
Embed a link of a video (for example, YouTube or Vimeo) or add a MP3- or MP4-file. The maximum file size that's allowed is 30 MB. Add in the ALT tag a description of the file for extra recognition by text to speech software.
Block question on return
If the respondent has pressed "next" the respondent cannot change the answer anymore.
Question on same page previous question
Show this question on the same page as the previous question.
Countdown timer
If you want a respondent to continue automatically or stay on this question longer, you can use the timer.
Show explanation
If the answer has been given, the respondent can use this option to explain the choice.
Answer Options

Jump: when this answer has been selected, you can send the respondent to a different question than the next.

Put a condition on the display of the answer.

Add an image via the mediamanager. With this you can display an show images instead of reply text.

If the respondents hovers over the "i" for information, an explanation appears on the answer (maximum of 400 characters). you can also add the label per answer.