The slider query can be set with a minimum and maximum value. The respondent can choose from two opposites, but the number of answer options is larger compared to the 7-point scale of the Semantic differential. For example: "What percentage of your time do you watch television?"
On this page:
Add a Slider Question
Click in the menu on "Questions" and "Enter Questions".
Choose "Slider Question" and press the "Select" button.
Fill in a "Question text".

Optional: The outer field allows you to add an answer outside the semantic differential, such as "Don't know" or "N / A".

Optional: with the option "Display value" you can display the number that the respondent selects.

Please choose a minimum and maximum value.

Enter a response text at "Left" and "Right". This is the extreme answer that should be left and right per line.

Press the "Save" button.
Range based on a survey variable
The range can also be set by using a research variable. Note: for a minimum or maximum value, you must make sure that the survey variable is filled with a number.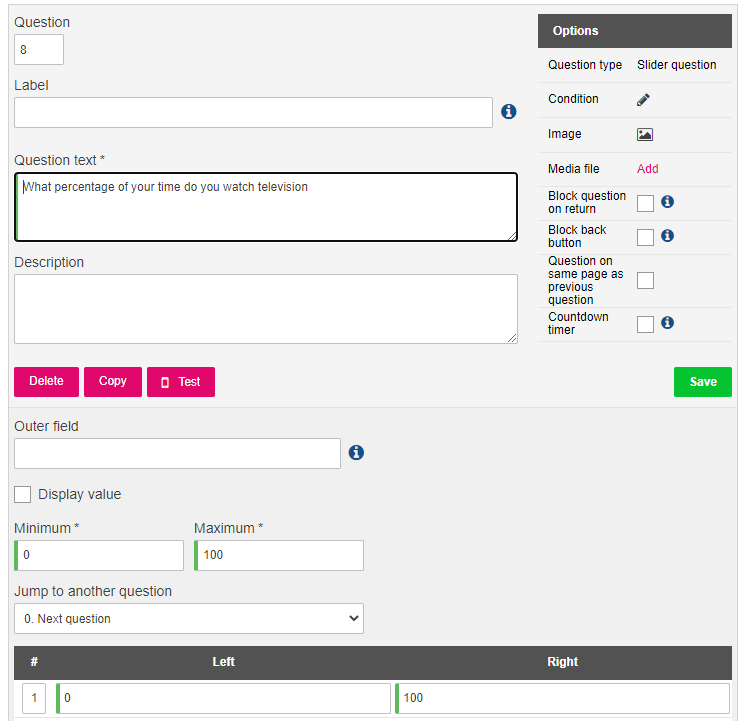 Question options
The Slider Question has the following question options: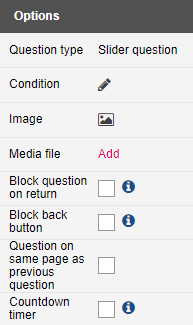 Conditions
Here you can put a condition on the question. Read more about setting up a condition setting conditions.
Images
Click on

to add an image to the question. Make a choice from the available images in the MediaManager or upload your own image.
Block question on return
If the respondent has pressed "next" the respondent cannot change the answer anymore.
Question on same page previous question
Show this question on the same page as the previous question.
Countdown timer
If you want a respondent to continue automatically or stay on this question longer, you can use the timer.