In the menu, go to "Respondents" and click "Import" under "Respondents". Here you can upload a CSV file with the data of the respondents, the so-called data enrichment.
What does the upload look like?
The first row of an upload contains the name of the data type you want to fill in. For instance: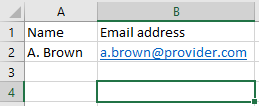 In the second row you enter the data per respondent. The file must be at least contain one column.
Create a CSV file
You can process the data in, for example, Excel. In order to upload the file, you have to save the file as a CSV file (*csv). To do this, go to "File" in Excel and choose "Save as". Save the data not as "Excel workbook" but as "CSV UTF-8 (* csv)". You can import the file now in the tool.
Upload a CSV file
In the menu, go to "Respondents" and click "Import" under "Respondents". You can drag the CSV file to the page or select it from the explorer by clicking on the frame. Follow the following steps:
Click "Continue" under "Import Process".
Check that the first lines of the columns contain the correct names. Select "Yes" if the file contains column names. Click "No" if you still have one want to add on the next page.
Click on "Next".
Check that the column names are correct. If the names are not correct you can change them here. If the column name contains special texts, you can enter them here to check. You can also select which columns should be imported. Click "Next" if everything is correct.
Do you have the survey access set to "Only email addresses from list" or "Only codes from list? Then select the desired way in which respondents can log in. If you invite people via email choose at "Login 1" the e-mail address column. If your respondents need to fill in the code, select the column with the code here. You can also go for a double login by using "Login 2". This is an added security and can be used if respondents will be invited to the same survey multiple times and potentially email respondents automatically, such as in a bi-monthly employee satisfaction survey.
Press "Import". Depending on the size of the file, this can sometimes take a while to upload. You can see the history or see under "Respondents" whether the data has been imported into the survey.
After importing the data, this icon will appear on the right edge of the menu:

.
If you click on

open the available enrichment variables.
The enrichment variables [[Name]] and [[E-mail address]] can be used in the text of the survey. You can, for example, use it in the invitation e-mail or in the questionnaire to write to the respondent personally by placing [[Name]] in the text.