It is possible to download the results in an Excel table report, based on date and/or a created filter. You can also apply weight or select filters based on answers, variables, date or panel variables (Community).
Download Tables
Go in the menu to "Download centre" and "Tables".
Optional: select a question or data enrichment on which you want to weight your data and fill in the desired ratio. This ratio will be applied on the results and will deliver the tables with the weighted data.
Optional: select a time period in the "From" and "To" field.
Optional: select the filters you wish to apply.
Click on "Download".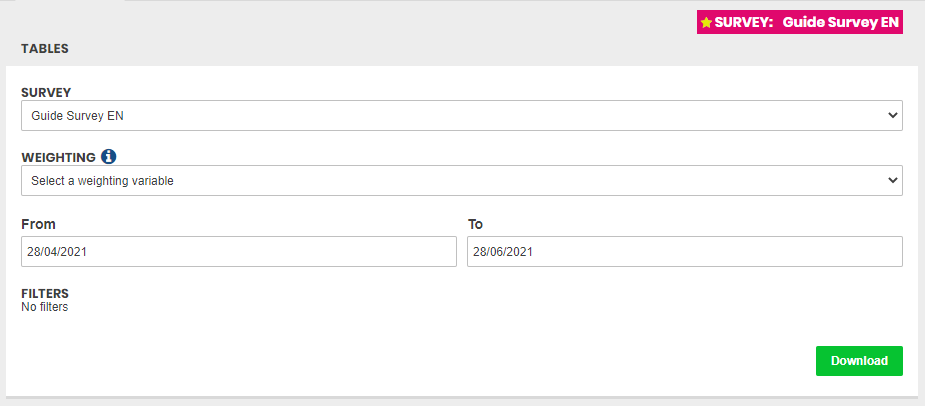 What is weight?
Via the functionality 'weight' you can correct deviations in the netto sample, so that it resembles the actual population. Instead of having every respondent count equally, adding weighting will add a specific value to respondents. For example, the under represented groups will receive a larger voice and the over represented group a smaller one. The advantage is that the complete result is more representative of the population. The disadvantage however is that the reliability decreases, especially if a small group is weighted heavily. You can weigh the data on given answers or on imported data-enrichment.
Filters
By using filters you can cross the data based on answers. Create a filter for every answer option of the question. After this you can select these filters which you want to come back in the Excel file. This way you can create pivot or cross tabulations in the table report.