In this question type, respondents can enter an answer in an open text field. The open question (small) has the size of one line in which a maximum of 2500 characters can be entered. For example: "What do you think of our new Survey tool?"
On this page:
Add a Open Question (Small)
Click in the menu on "Questions" and "Enter Questions".
Choose "Open Question (Small)" and press the "Select" button.
Fill in a "Question text".

Choose the response type. You can choose from:

Open: Participant can fill in a text field.

Date: Participant can enter the date with numbers.

Number: Participant can only enter numbers.

Calendar: Participant will see a calendar where a date can be selected.

Optional: The outer field allows you to add an answer outside the essay, such as "Don't know" or "N / A". At the field "Outside field jump" you can determine which next question the respondents who clicked on "N / A" will be referred to.

Press the "Save" button.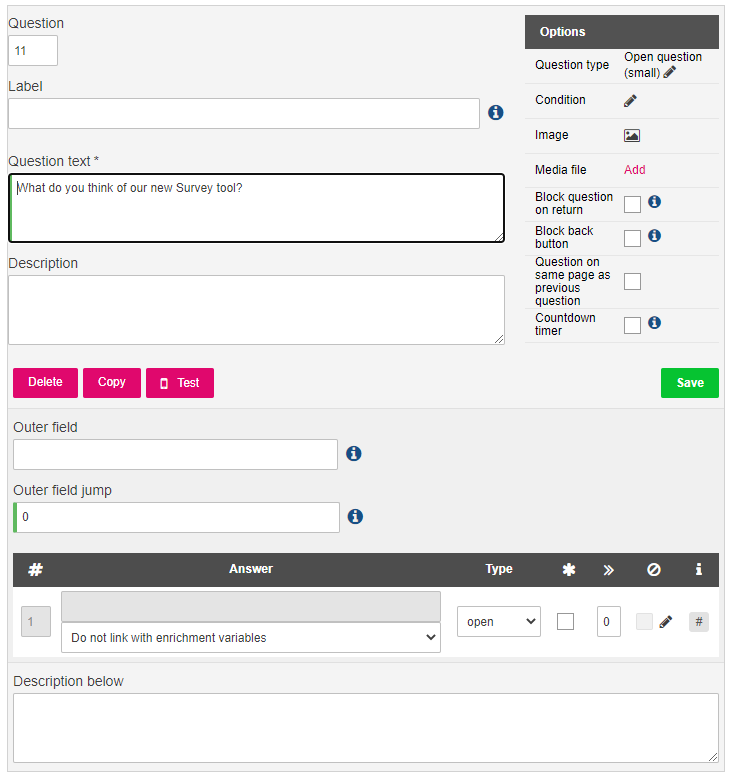 Question options
The Open Question (Small) has the following question options: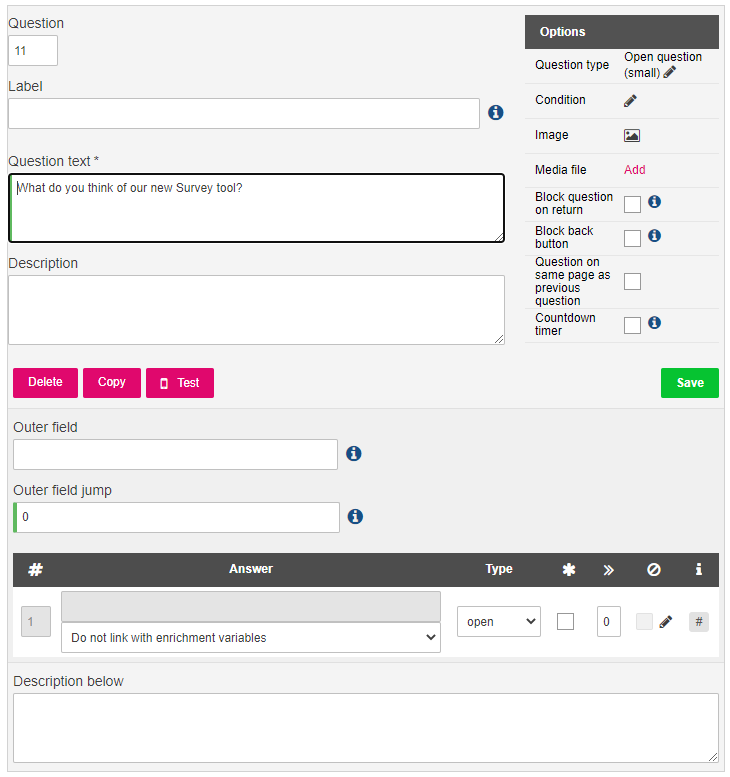 Question type
You can switch between question types.
Conditions
Here you can put a condition on the question. Read more about setting conditions.
Images
Click on

to add an image to the question. Make a choice from the available images in the MediaManager or upload your own image.
Block question on return
If the respondent has pressed "next" the respondent cannot change the answer anymore.
Question on same page previous question
Show this question on the same page as the previous question.
Countdown timer
If you want a respondent to continue automatically or stay on this question longer, you can use the timer.
Answer Options
You can use the following options for the answers:

Making the answer mandatory to fill in. This is only applicable with the answer type "open". The respondent is required to fill in an answer with at least 3 characters.

Jump: when this answer has been selected, you can send the respondent to a different question than the next.

Restriction: there can be a restriction put on a question such as a number range, a date range or a restriction for emails or postal codes.

If the respondents hovers over the "i" for information, an explanation appears on the answer (maximum of 400 characters). you can also add the label per answer.